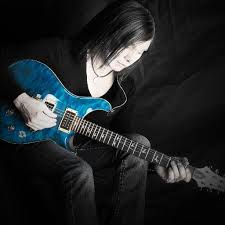 Voyager – Cailyn (Lloyd) – Released January 2015
Several weeks ago, I took a trip through space courtesy of the music of John Serrie and his album Day Star. Over the last week I have traveled through our own solar system tracing the travels of the Voyager ship, via the music of Cailyn (Lloyd)and her latest release apply titled Voyager. 
Cailyn is a guitarist, multi-instrumentalist, and composer from Fond du Lac, Wisconsin. She began her music career at an early age, starting with piano and quickly moving on to violin and bass. By her teens she was living in London, England and playing in blues and prog-rock bands Cailyn eventually returned to the states, still studying and playing guitar, bass and keyboards. Not satisfied with that she added drums to her repertoire. Oh, and she took some time off to raise a family!! Around 2004, Cailyn returned to music full-time, initially touring with the Alimony Blues Band as a guitarist and then with the power-rock band IX Lives playing guitar, bass and keyboards.
Since 2008, when she released her first EP, Cailyn has released three full-length albums,True Lies and Other Fairy Tales, a classic rock album recorded with WAMI award-winning vocalist Dani Daly , "Four Pieces", an album composed of a fusion of progressive rock and classical music, that features three standards from the classical repertoire and one original composition, all performed on modern instruments, and her current release Voyager.
I really, really liked Voyager from the opening track "Voyager", but then I got to the fourth track :"Jupiter" and I thought I know this song, and I feel in love with the album!. Seems that Cailyn and I share a mutual love of Gustav Holst's "The Planets" and for years she has dreamed about creating a progressive rock adaptation of the work. Finally, well let's let Cailyn talk about what happened……,
Over time, the concept evolved from a progressive rock version of The Planets suite to a musical portrait of the Voyager missions driven by my lifelong fascination with astronomy and the American space program.

I imagined a series of tone poems–musical reflections of some of the worlds that the Voyager probes visited. The Planets Suite provided the music for the four outer planets of Jupiter, Saturn, Uranus, and Neptune. The remaining music is my vision of the many moons the Voyager probes visited and photographed.

Much of Voyager is classically inflected symphonic progressive rock, especially the excerpts from The Planets suite as well as Io, Titan, and Triton. Europa and Pale Blue Dot are more New Age with blues inflections. Enceladus is free form without time or key signature. Ariel and Miranda are classic-progressive rock hybrids. Voyager is louder and edgier than Four Pieces. – Read More
I am still in the process of exploring this album fully and I like the album more and more with each listen, so check it out!!
Bottom Line: For me Voyager is a strong 4.5 album out of 5. Cailyn has successfully taken some of the pieces from Holst Planets made them prog rock pieces and then added her own compositions to create for me a wonderful voyage through the outer reaches of our solar system, So sit back, put your feet up, and enjoy the trip!!
Links to further explorations of the music of Cailyn and Voyager.
Artist Website
ProgArchives
Facebook
Twitter
YouTube
CDBaby
Here's a Cailyn with "Adagio" from her 2012 album Four Pieces