Riders of the Universe : Netherlands
I must say that what first attracted me to Riders of the Universe new album was the cover. But it only took listening to a few minutes of the opening track "We AreRiders Pt 1 & 2" For me to know that I was going to like this album. I had it on in the background the other night as I was reading and when the title track "Amen Road" came on my ears perked up, and I thought I have to pay more attention to these guys! I did just that , yesterday, and again in morning, which only reinforced the fact that I really like this album!!
Since I had never heard of the band, after listening to the album, I went to their website and discovered that the band calls The Netherlands home. I should have known! I think that a good majority of the time when I find a band that I really like they are from  The Netherlands. I also found at their website this description of Riders of the Universe's music……
RIDERS OF THE UNIVERSE SOUNDS LIKE AN ALTERNATIVE GUITAR BAND THAT PROUDLY SHOWS ITS ROOTS LIES IN THE CLASSICAL -, BRASS BAND -, CHURCH -, BLUES – AND ROCK MUSIC. ADDITIONAL TO THE CLASSIC COMBINATION OF ROCK GUITAR, KEYBOARDS, BASS, DRUMS AND VOCALS, THE BAND ADDS ACCENTS WITH TUBA, FLUGELHORN, BOUZOUKI AND VOCAL HARMONIES.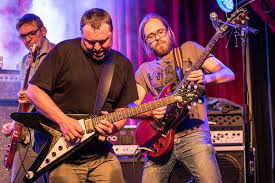 The musicians in Riders of the Universe are:
RONALD LOUWSMA -GUITAR, VOCALS
ARJAN HOEKSTRA -GUITAR, EUPHONIUM, FLUGELHORN, BASS, VOCALS
GERARD KEIJSERS -DRUMS, PERCUSSION, VOCALS
HANS CRÉBAS -VOCALS
MARTIEN KEIJSERS -VOCALS
BOB CRÉBAS -BASS, BOUZOUKI
ROBERT WARDENIER -HAMMOND, WURLITZER, ROLAND V-SYNTH, MINIMOOG VOYAGER,
ROLAND RD-700, OPENLABS NEKO, REIL ORGAN.
The band also has a progressive rock side that is strongly displayed on the opening track of the album "We are Riders Pt 1 & 2 and "All That Is" which may be my two favorite tracks on the album. Oops, I forgot the title track "Amen Road", remember that's the first track that really caught your attention, nimrod! But even though their progressive side is muted on the majority of the twelve tracks on the album, the good music is not!! The guitar work, vocals and overall vibe of the album is fantastic my feet were tapping throughout the album!
Bottom Line: 3.5 to 4 stars out of 5. There is wide variety of music on Amen Road that holds the listeners interest throughout the album, strong guitars and vocals and just good rock music!! Check Out Riders of the Universe!!
Links for Further Explorations of Riders of the Universe!