Merry Christmas Morning to All! I hope everyone has a wonderful day today!! For the first time in 35 plus years Christmas morning will not be spent in our house! But I do believe that will be more than made up for by the presence of Oliver Edward and Zoe Isabella. This Christmas morning will be spent at son Andrew and Meaghan's home. The other difference will be that Elizabeth will not be the first to open here presents, that honor will go to the youngest Ms. Zoe!!
My other fear is that young Oliver did not get a glimpse of Santa last nigh putting out his family's presents and heaven forbid that he saw mommy kissing Santa!!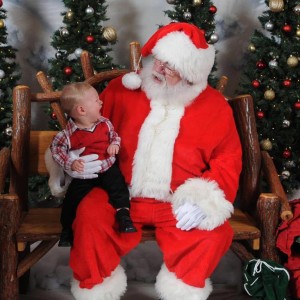 Now Zoe on the other hand was quite relaxed with Santa. Daughter-in-Law Melissa said it had nothing to do with age, it was just that Zoe realized that she knew that guy, he babysat me once!!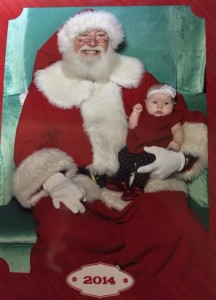 Ok so we're heading out in a little while and our anticipated arrival is 11:00 am, as that time approaches all the members of the Karn family will head upstairs, leaving the front door unlocked of course. Once the presents that we are bringing for everyone are placed around the tree and "Thistlehair the Christmas Bear" is playing  and you are told you may come down!!  LOL – just joking (not really). Anyway it's not Christmas until I hear the following. Merry Christmas Everyone!!