Cross-posted from EKKarn's Explorations
A month or so ago our daughter Elizabeth surprised her mother and I, when she told us that on November 8th we had to go with her to Trenton, where she would be running a 10K!  It surprised us because she has never been athletic. She enjoys and follows sports, but never played any, or even showed any inclination to do so. When she had to run the mile in gym in high school, she mostly walked! Her brother Andrew ran cross-country as  did I, and I also continue to run, but not Elizabeth. This running surprise comes after we were surprised at her graduation party for receiving her Master's Degree from the University of Delaware, At the party,  we were told by her friend, that Elizabeth is awesome when she works out with weights at the gym. Our Elizabeth???
Anyway, there I was on Saturday,  the coldest morning of the fall, walking down Cass Street in Trenton, to join the crowd of runners who would be participating in the 3rd Annual Trenton 5K,10K and Half-Marathon! I haven't run for about three weeks so I didn't join in the festivities, but I didn't mind because this was Elizabeth's day!
Here's a picture of her at the start of the race and here she is at the finish inside Arm &Hammer Stadium!!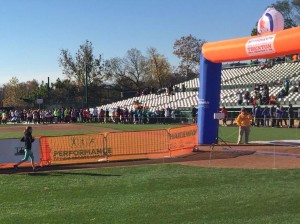 She finished in about the time she thought she would 1 hour and 5 minutes, running at a 10:32 pace, which was good enough for an 8th place in her age group!!
Now I said I was surprised, but I don't really know  why I was because Elizabeth has never been one to stay within her comfort zone. When she was in her senior year at high school, where she was number one in her class, she became her class representative to the school board meetings because she thought that it would help her to speak before people!  Both her mother and I would avoid a situation like that, like the plague!! Prior to that, she had attended a week-long Student leadership conference in Washington D.C. when she was in the 8th grade, and a three-week summer class at William & Mary when she was a high school sophomore!! Attending that class,  may have helped her to get accepted at William &Mary a few years later. At a minimum, as a result of taking the class, she knew she liked W&M!
So I say to Elizabeth, congratulations on your run,  your mother and I are very proud of you! Now if I can only learn from you how to live outside of my comfort zone maybe someday I'll get to go to England and Ireland, or at least run that half-marathon that I keep saying I should try to run some day……how about the second Saturday in November next year, you think Elizabeth will be up for it!!
Hum, I think I'll check out a half-marathon training schedule at Walk, Jog Run or Runner's World!!……