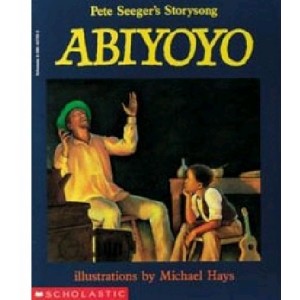 So sometime this month, my wife and I will become grandparents for the first time, when my son Andrew and his wife Meaghan have their baby, Oliver Edward Karn!! Well, it's actually Meaghan doing all the work right now and Andrew just gets the congratulations!! A couple of weeks ago, they had Meaghan's baby shower.and Oliver's gifts from Andrew's brothers and sister and my wife and I were books and not just any books, but ones that were special to us.The kids picked ones that were read to them and my wife and I picked either ones that were read to us or ones that we read to the kids! After my wife, whose idea it was first announced the idea. Peter immediately said "I'll get Where the Wild Things Are" – though Bossy Boots may have been a better choice! What surprised my wife and I, was the first book that Elizabeth picked, which was Abiyoyo! The picture book based on the Pete Seeger song….
Four out of the five books that I gave Oliver were ones that I read to the kids. The only one that I could think of from my childhood was The Little Engine that Could. I remember that my mother's mother always read that one to me!! Here's my other four….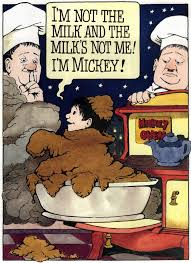 In the Night Kitchen – Maurice Sendak –  I always loved to read this one to the kids and I think that the controversy over the nudity of Mickey is ridiculous!
Strega Nona by Tomie dePaola – I always enjoyed the mayhem created by Strega Nona helper Big Anthony when he does what he is not supposed to do!
The Tale of Mr. Jeremy Fisher – Beatrix Potter –  I had to include a Beatrix Potter book on my list I think we wore out all the copies of the many books that we had!! This one was always a favorite but they are all great!!
Runaway Bunny –  Margaret Wise Brown – Now this pick was a little controversial only in that when my wife told me that it was one of the books I had on my list, I didn't believe her. I thought that the fifth book on my list was Ezra Jack Keats' Maggie and the Pirate and it wasn't until she showed me my list that I believed her!! But I'm glad it is on the list because it's a great book that talks of parental love!!
Other books included Ezra Jack Keats. The Snowy Day from Elizabeth. Gregory the Terrible Eater and The Tomten from Nick and Noisy Nora, Max's Toys, and The Tale of Miss Moppet another Beatrix Potter favorite! So Oliver we hope you enjoy these books, which are the start of a library that I know will get bigger and bigger, because you know Oliver, you can never have too many books!!
Now the reason that this all came to mind today is that I was looking at videos of Doc Watson's music because today is his birthday (video to come soon) and while I was thinking about Doc – the other folksinger that came to mind was the late ( I hate to write that) Pete Seeger and I went and found this video taken from the show Reading Rainbow with Pete telling his tale of Abiyoyo!!1