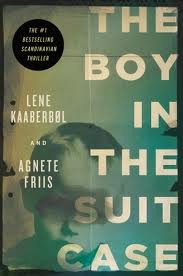 So as we start 2013 let's take a look at the boat load of wonderful books that I received for Christmas! First there's the book I received from my daughter Elizabeth, that I am currently reading The Boy in the Suit Case by Lene Kaaberboll and Agnete Frillis. This is the first book in a planned three book series featuring Red Cross worker Nina Borg. Elizabeth picked the book because, I told her after I picked up book two of the series a month or so ago for her at the library, that it said on the cover "Fans of Nordic crime fiction rejoice",and that I was a fan of Nordic crime fiction, so the book sounded good to me! So far I was right!
Two books came from Kathy's Uncle Jim and wife Nathalie both by Joe Hill Horns and Heart-Shaped Box. I've never read any of his books but I was a big fan of his dad, Stephen King's early books! They also gave me a Book Light that will come in handy when I am staying up late to finish one of Joe's books!
Four books came from my wife – Deep Sky by Patrick Lee. This is the third book featuring Travis Chase and The Breech an anomaly that is the governments most carefully guarded secret. I've really enjoyed the first two books in this series The Breech and Ghost Country and there's no question that this one will be just as good!
One of the non-fiction books I received was Jeffrey D Wert's new book about the Civil War A Glorious Army: Robert E Lee's Triumph 1862-1863. This one has two things going for it Wert's writing and Robert E Lee! I know I'm going to love it!
The last two books from my wife are from two of my favorite authors. The first is The Silent Girl a Rizzoli and Isles novel from Tess Gerritsen The Silent Girl. I've really enjoyed all the Rizzoli and Isles novels. It will be interesting to see how I like this one now that I'll have the TV actors who play Rizzoli and Isles in my head when I read it!
The second book is the 19th book in the great Dave Robicheaux series by James Lee Burke. I've read every one of them but Book 8 Burning Angel. I think I will make it a goal to read that one this year, then I can say I've read the complete series!!
While I was preparing this post, I came across this great article at Esquire : James Lee Burke: What I've Learned. Here are two quotes from that article:
I'm not a historical admirer of Andrew Jackson because of the things he did to the Indians, but I have to concede that Jackson put a pistol ball in a guy after he insulted his wife. Can you imagine somebody in — what was it, 1806? — making ugly remarks about Jackson's wife the way people do about Michelle Obama? Jackson would be on the guy's doorstep the next day with a blunderbuss

My book The Lost Get-Back Boogie was rejected 111 times before it was eventually published by Louisiana State University Press. When you get thoroughly rejected — and I mean thoroughly rejected — you realize you do it for the love of the work. And you stay out of the consequences. I developed one rule for myself: Never leave a manuscript at home more than thirty-six hours. Everything stays under submission. Never accept defeat.

Read more: James Lee Burke Interview – James Lee Burke Quotes – Esquire http://www.esquire.com/features/what-ive-learned/meaning-of-life-2013/james-lee-burke-interview-0113#ixzz2GmG5wJzS
There will be more books coming because of the gift cards to Amazon and Barnes and Noble that were given to me by son Nick and son Peter and his wife Missy respectively.
Son Andrew and daughter-in-law Meaghan gave me the other non-fiction book that you readers will read more from: Events that Changed the World. I bet you didn't know that on November 20, 1917 the first tank battle was fought in Cambrai, France! On that day a large number of tanks were incorporated into a battle plan for the first time : they were used in a full scale assault on the Hindenburg Line in Northern France! Bet you can't wait!!
Oops finally I also received Boyd Morrison's latest book The Vault, which came disguised as Ruth Rendell's book The Vault, because my wife says she couldn't read my writing, but since she already had read the book I don't know!!
So thanks everyone for setting up my reading for the first part of 2013!! Now it's time to get back to The Boy in the Suit Case.!